We drove to South Bend to see Syracuse play Notre Dame this weekend.  While there we met up with our daughter and son-in-law, and his parents and his sister and her new husband.  Fun time!
It was cold.  We did a little tailgating, but no one really wanted to spend a lot of time out in a tundra-like parking lot.  The game was the big draw.  Like always, the atmosphere on the Notre Dame campus on a Football Weekend is nearly electric.  Although the focus was on football, a lot of people were also lauding the Women's Soccer team, which had won in overtime the nite before to boost their record to 24-0-0 — WOW!
So, back to the cold. 24 degrees doesn't sound that cold… until one has to be outside in that temperature for four or five hours.
And the temperature drops to 18 degrees.
And you are standing on solid ice because it snowed 6″ just before the game.
And your team loses in an embarrassing game filled with lost opportunities.
Did you know that 18 degrees Farenheit is -8 Celsius?  With windchill, that's -17 degrees Celsius.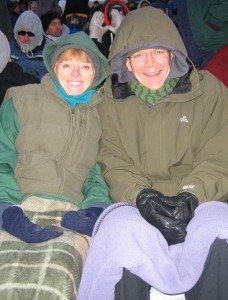 Well, despite the cold, we had a great time.  We were insulated with up to five layers of clothing — all of it green or navy, of course — and drank our share of hot cocoa served at 500 degrees (which is a trip and a half to drink when wearing mittens!).
And my head stayed warm under three wraps.
Happiness is a warm hat