I am so excited!  My oldest son got engaged last weekend to a wonderful young woman who makes him very happy.
In the improbable manner of the world, Justin (from Cleveland) met Katie (from Pittsburgh) while they were attending a Second City Improv workshop (in Chicago) two summers ago.  Apparently it was love at first sight.
Justin moved to Nashville to be near Katie for her last year of college, and it's been great fun to watch their relationship mature.  This child of ours lives a great deal of his life in an Improvisational mode – making it up as he goes along.  Katie is graduating this month from Belmont University in Nashville as a Theatre major, and her dream is to land a spot on Saturday Night Live as an Improv artist.  Thus, she makes a perfect match for Justin.
I loved watching this all from the sidelines, noticing that Romance is far from dead in this turbulent world.  Justin honored the tradition of asking Katie's parents for their blessing.  He then made them co-conspirators in his plan when they sent him a gold cuff link that was momento from Katie's beloved grandfather.  Justin had the diamond in that cuff link turned into a one-of-a-kind Claddagh ring (see photo).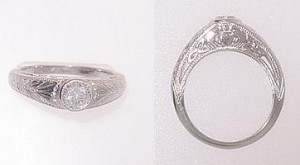 Then he planned a trip with Katie and plotted with friends to arrange for music, sparklers, and videotaping of the proposal, which happened when they "coincidentally" made their way down the same Chicago street where they'd had their first kiss.
In the manner of Millennials, the engagement was first announced on Katie's Facebook page, of course!
We're looking forward to a very happy event in the summer of 2010.  J