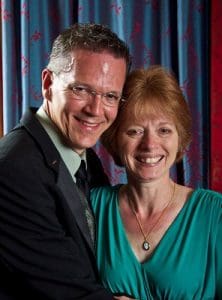 For the past 32 years I've been married to an amazing woman who has partnered with me in raising a great family, but who pretty much left me alone when it came to running my coaching and consulting business (except for balancing the books!).  A few years ago, however, she started to pay more attention to my work on Happiness as she noticed they have a real impact.  Please join me in welcoming guest author Cheryl Smith as she shares some of her accumulated learning.
The 13 Principles of Happiness Applied to Real Life
by Cheryl Smith
I am an accountant, not a writer.  Still, I've learned a lot about Happiness over the past few years.  What follows are some of my "aha" moments that relate to some of Jim's 13 Principles of Happiness.
Become Positively Self-ish, #1
I always used to put everyone in my life before me — whether my husband, my children, my parents, or my friends, I always suppressed my own needs.  I remember one Christmas when Jim and I were writing our holiday letter, and I had no personal highlights.  I was the "support" behind most of Jim's and the kids' highlights, but I actually had none of my own.
I feel differently now.  I realize how I can give even more if I prioritize my needs, too.  I love children and truly enjoy every minute I can spend with young kids.  Several years ago I seriously considered foster parenting, but life and various health issues altered that path.  I do, however, volunteer once a week at Providence House (a crisis nursery for children) and I get a lot of joy from working with the kids.  When I returned to work after my surgery, in the "heat" of the tax season, I felt that I would have to give up my volunteering.  However, after thinking long and hard, I decided to be positively self-ish and I found the time to maintain my training hours and have continued my volunteer work despite everything else.
Be Authentic, #13
I witnessed an example of this last month when my son got married.  He and Katie chose to celebrate their wedding in the way they wanted whether that met with others' expectations or not.  They had a small private event in northern Michigan with two dozen of their closest friends and family and then the next weekend they had a celebration in Chicago with a comedy show and a party at a venue decorated with eclectic 50's décor!
My daughter and son-in-law married several years ago in the gracious splendor of the Basilica of Notre Dame and for them, it was perfect.  Last month was perfect for Justin and Katie.  Neither event was better, just different.
When you Live Your Values (#2) it is much easier to remember what is most important.  When it comes to marriage, it is about making a lifetime commitment to the one you love, whether on a beach in northern Michigan or in the Notre Dame Basilica.  I believe they have both chosen wisely, and in the process been true to themselves.
Build Reserves, #5
I have realized recently that what I want to build reserves of in my life is Memories.  I don't need extra things; what I want is extra experiences.  I told my family that I don't want gifts for birthday or Mother's Day.  Instead, what I want is a chance to get together or to receive a phone call.  I guess that is why Jim, Kelly, Paul, Jared and I gave Justin and Katie a honeymoon trip for their wedding gift.  What we were really giving them was an adventure and an opportunity for memories.
Tolerate Nothing, #6
This principle is one of my favorites and I practice it often, frequently in small ways.  The recent wedding gave me an opportunity to really put it to use.  Because Justin and Katie chose an unconventional path there were some friends and family who were less than supportive of the plans.  At first I was worried about "how to make it right."  But Katie's mother and I decided that we would not tolerate, nor worry about, those folks.  We decided that those who came to the events would be those who were supposed to be there, and we would happily celebrate with them.  And we did.
Choose to Respond, #7
Just 6 months ago I was diagnosed with a brain tumor.  It was not within my brain, but rather inside the lining surrounding my brain; and it was not cancer – but was still a brain tumor!  I chose to respond with all resources available to me.  I had a wonderful surgeon at the Cleveland Clinic and nine days after my diagnosis I had 10 hours of brain surgery.  The only open date on the surgeon's calendar was Christmas Eve, and for a moment I worried about "ruining" the holiday.  But I decided that I have to take care of me (I guess that's also Principle #1 again).
There are many things in life that we cannot control, but in whatever way possible we must respond and face things head on.  I try to face things as quickly as possible now.  I find that it gives me much less time to worry and far more energy to act.

Pay Attention, #9
I think that staying focused on what is going on around you is critical.  I don't just mean what is going on at the global level.  I mean what is going on right in front of you!
I will always remember a conversation with my 25-year-old brother-in-law, Sean, the Thanksgiving before his death from Leukemia.  Sean was trying his best to be with family, even though he'd just learned that the cancer had returned.  After dinner I noticed that he had moved away from the group and eventually headed upstairs.  After a few minutes I followed him up.  He was in his cousin's bedroom crying.  I walked in and just held him.  He said, " No one wants me to be here, I make them uncomfortable.  No one even came looking for me."  It was not a time to debate his statement or correct him.  It was just a time to hold him and remind him that we all loved him.
Always pay attention to those around you.
Simplify, #10
This is the principle I find easiest and hardest to incorporate into my life.  I like things simple, very simple, if possible.  But I also like things to be predictable, and I hate change.  But Jim has helped me to learn that change and simplify need not be mutually exclusive.  Change does not have to complicate your life, unless you let it.  Sometimes the very best way to simplify is to allow a change or let go!
Cheryl Smith, CPA, is a wife, mother, and tax accountant.  She lives in Cleveland, Ohio, with her terminally happy husband and two unnamed goldfish.
~~~~~~~~~~
Anyone can make the decision to be happy when they PRACTICE an aspect of happiness every day.  Why not post a copy of the 13 Principles on your workstation wall or on your refrigerator so you can put them into action like Cheryl has?  You can download a 1-page summary.  Choose Happiness.