I was recruited to deliver the keynote presentation at a regional Human Resources conference in Tampa. My dear wife suggested that I take an extra day to enjoy the sunshine.
What?! No way! I'm too busy. I have backlog. I… I'm burned out. So after the conference ended I drove to Orlando, had dinner with a former client, then spent the next day with Harry Potter at Universal Studios.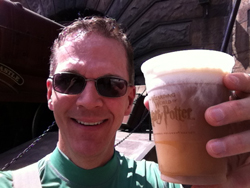 I strapped myself into a roller coaster painted like a dragon and screamed. I dropped ten stories on the Fear Fall, flew over a Quidditch field on an enchanted bench, narrowly escaped from a T-rex, and got soaking wet – on
purpose!
I watched kids at play and reveled in their joy. I found a quiet spot in the sun and did yoga midday. Then I stood in the middle of a Truffula forest in awe of the creative spirit that brought Dr Suess' whimsy to life.
It was just 24 hours, but what a difference. My tank refilled, simply because I stepped away from the grind.
If it has been more than six months since you took a vacation, stop wondering why you are stressed. I can tell you why – you need a break!
Go somewhere and play like a kid. I promise you'll feel happier.